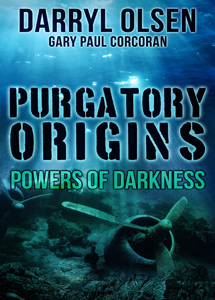 When Professor Harrison Standish, a bookish young archeologist inadvertently stumbles upon an ancient burial chamber in Egypt, he is baffled to find symbolism inside that would appear to date from two different historical periods, thousands of years apart. Suspecting the tomb had been tampered with at some point in the distant past, Professor Standish soon discovers the skeletons of ten half-human/half-canine creatures lying in a far corner of thechamber and his initial bafflement now turns to shock. What kind of ancient madman would be conducting such a horrific experiment?
As Dr. Standish endeavors to explain this mystery over the ensuing days, he happens upon a news report, suggesting that these same grotesque, half-human/half-canine creatures have come to life in the remote mountains of Wyoming and he is immediately on the next flight. By the time he arrives in Wyoming, a World War II Nazi bomber has materialized out of the sky and crashed off the coast of France and a Nazi general named Schmitz has stumbled into the 21st century, leaving behind evidence of his presence in Professor Standish's ancient burial chamber back in Egypt, all of which sets the stage for a rollicking, nonstop, modern day fantasy/sci-fi adventure.
The cast of characters in Purgatory: Origins includes Rachael, a pesky, auburn haired New York magazine correspondent, who is known equally for her ability to sink her teeth into a story and her unwillingness to let go, Jason Kendall, an escaped rapist and killer who falls hard for Rachael when they cross paths and who turns out to have a past with our half human creatures, and Harper, the ex-special forces FBI agent, whose primary goal is finding Jason Kendall, getting him back behind bars and keeping him there for the rest of his life but who soon finds himself sucked into this mystery woven of ancient symbolism, old Nazi war criminals and otherworldly creatures.
As with Soldiers of Misfortune, the first installment of the Purgatory series, Purgatory: Origins, The Prequel, presents an alternative universe that is as real as your Sunday morning paper, yet one that quickly leads to swashbuckling adventures. Purgatory: Origins. An alternative universe you enter with no hope of escaping, a book you pick up with little hope of putting it back down.