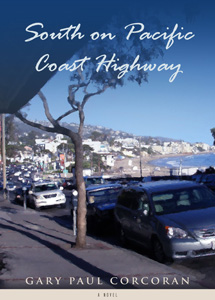 If you're looking for novels set on Pacific Coast Highway, particularly crime novels, South On Pacific Coast Highway is it. Inspired by the Phillip Marlowe's and Sam Spades of the author's youth, private detective Michael Devlin operates a one-man shop out of the sleepy little beach town of Laurel Lagoon, which is modeled after Laguna Beach, California.
Slumming his way among the sometimes seedy, sometimes tony but always alluring venues littering that stretch of coastline, Michael doggedly attempts to solve four murders, free a wrongly imprisoned friend and wrest spiritual enlightenment from a handful of better forgotten dreams.
Add in a hardnosed cop, two pain in the ass Feds, a billionaire online gambling mogul, a couple of nasty boys from south of the border, a Russian thug named Boris, a fortune teller and a miniature poodle named Butch and you have the ingredients for a terrific ride, a haunting love story and a searing portrait of life along the Southern California coast.