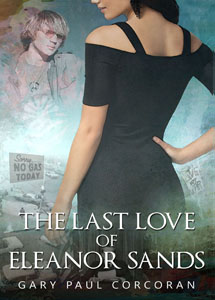 If you're looking for novels about older women and younger men, look no further. The Last Love of Eleanor Sands is the tale of a torrid romance between a young man and his college professor in the early '70s.
Roger has just returned from vagabonding around the world. Eleanor is a recently divorced woman, ready to cast off the restraints of her 20 year marriage. These two soon find themselves consumed by their unrestrained passions, with Roger playing the young royal subject to Eleanor's exotic courtesan.
A bittersweet tale of longing, lust, betrayal and ultimate forgiveness you won't soon forget.
Review 
'Charming, hilarious and heartbreaking in equal measures. A thoroughly unique romp through the sixties and early seventies, from Kennedy to Nixon's downfall, from broken dreams to the Symbionese Liberation Army and around the block gas lines. Mr. Corcoran has painted an indelible portrait of a time we sometimes long to revisit and more often would prefer to forget. And let me not neglect the star-crossed romance of a young man and an older woman at the heart of this story. I have been lying awake at night since finishing the book, unable to get their very real bliss, ultimate tragedy and timeless friendship of the heart out of my mind…'
Gretchen Schields…Artist, Jeweler, Author and illustrator for Amy Tan's books